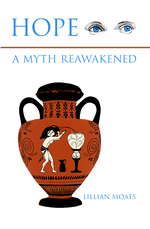 eBook too!
Author:
Lillian Moats
Genre:
Literary Fiction, Philosophy
Publication Date:
9/8/2015
Price:
$12.00 - eBook $4.95
Binding:
Paperback/ eBook
As with her four previous books, Lillian Moats asks of her reader a quiet attentiveness, and amply pays back that gift. The rhythms of her writing propel us through this timeless allegory, in which we meet characters wholly familiar to us, yet encounter them in ourselves as if for the first time. Full of suspense and insight, this book will speak to readers who think about the world, about the meaning of life and death, and who seek authentic hope in an age of denial.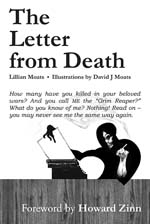 Ebook too!
Author:
Lillian Moats
Genre:
Political fiction
Publication Date:
2009
Price:
$17.95 - ebook $3.50
Binding:
Paperback/ eBook
Lillian Moats' latest book, The Letter from Death, features a foreword by Howard Zinn and 20 evocative full-page illustrations by David Moats. This slim volume casts a bright light on how our unexamined fear of death has, throughout history, misdirected our energies–away from the real and immediate challenges of this world and toward unnecessary war, injustice and self-destruction.
(July 1, '09 issue of BOOKLIST) "… In her fourth book, Moats performs an astonishing feat. By imagining Death as a patient and suffering entity fluent in human affairs, she broaches matters of daunting complexity with galvanizing directness. … this clarion critique offers an arresting perspective on religion, our "growing militarism," our "inexhaustible genius for denial," and our paradoxical failure to nurture our best qualities. … Moats has created a wise, unsettling, and beautiful book."
Donna Seaman
Feature film being digitized and restored
Full length black and white feature "Donna Rosebud" written, directed, and filmed by JP Somersaulter in 1986, is being digitized and restored by Michael Moats and JP Somersaulter for current audiences.
Publication date: August 23, 2021
IF YOU EXIST: In Search of a Reader Deep in the Future will be published on August 23, 2021
Artist's Book
9 FACES, Painted by Lillian Moats, a book dedicated to photojournalists around the world, is printed in a limited edition by Three Arts Press, December 2020